Cloud Consumer Security (SECICC) v1.0
Introducing Cisco Cloud Consumer Security (SECICC) v1.0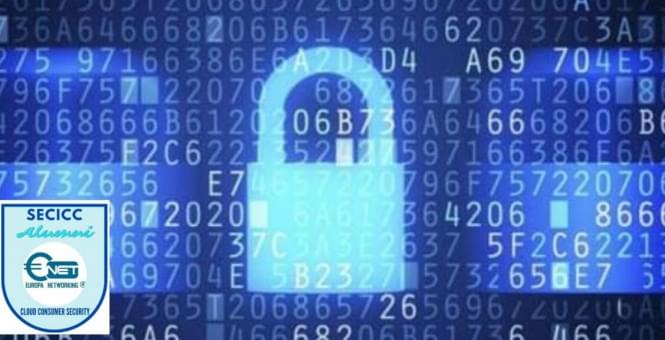 The Introducing Cisco Cloud Consumer Security (SECICC) v1.0 course gives you a technical overview of basic concepts and components of the cloud, and the Cisco® solutions used to provide comprehensive security of your cloud-based environment. In this primarily lecture-based course, you'll learn the basics from a cloud consumer perspective including securing cloud and Software as a Service (SaaS) application environments. This introductory course provides insights on using Cisco Stealthwatch™ Cloud, Cisco CloudLock, Cisco Umbrella™ and more to protect the user when using cloud-based applications.

Prerequisiti
Basic computer literacy
Basic PC operating system navigation skills
Basic Internet usage skills
Basic IP address knowledge
Obiettivi del Corso
Upon completing this course, you will be able to:
Describe public, private, and hybrid cloud models, concepts, and design
Explain the concepts and components for securing cloud environments
Describe Cisco security offerings for Amazon Web Services (AWS)
Define methods to secure SaaS application usage
Accesso a laboratori simulati che consentono di mettere in pratica e sperimentare le soluzioni apprese in aula.
Le principali tecnologie di interesse sono: Explore Cisco Stealthwatch Cloud - Explore Stealthwatch Cloud Alerts Settings, Watchlists, and Sensors - Explore Cisco Security Solutions in AWS Marketplace - Explore the Cisco CloudLock Dashboard and User Security - Explore Cisco CloudLock Application and Data Security - Explore Cisco Advanced Malware Protection (AMP) Endpoints - Explore the Cisco Umbrella Roaming Client
Introducing the Cloud
Describe the Evolution of Cloud Computing
Explain Cloud Service Models
Explore Cloud Deployment Models
Introducing Securing the Cloud
Describe the Cisco Threat-Centric Approach to Network Security
Describe Cloud Physical Environment Security
Describe Cloud Network Infrastructure Security
Explain Application Security
Explore Cloud Management and API Security
Describe Cisco Cloud-Based Security Solutions
Describe Network Functions Virtualization (NFV), Virtual Network Function (VNF), and Secure Agile Exchange (SAE)
Describe Cisco CloudCenter for MultiCloud Management
Describe Cisco Stealthwatch
Describing Cloud Security Solutions Using AWS
Identify AWS Security Offerings
Identify Cisco Security Solutions in AWS
Introducing Security in an SaaS Environment
Describe SaaS Applications
Describe SaaS Security Challenges
Explain Cloud Access Security Broker
Describe Cisco CloudLock
Describe OAuth and OAuth Attacks
Describe Cisco Advanced Malware Protection for Endpoints
Describe Cisco Cloud Email Security
Describe Cisco Umbrella
Il corso ha una durata complessiva di 8 ore.
Sessioni Live Instructor Led: da remoto o in presenza presso una delle nostre sedi .
* lezioni Live Instructor Led: teoria e pratica con l'interazione tra docente e partecipanti in modalità ibrida conciliando partecipanti in presenza e a distanza tramite nuove risorse didattiche come Video wall e Webex Contact Center tra altre.
CORSO

DATA INIZIO

DATA FINE

NOTE

Cloud Consumer Security (SECICC) v1.0
31/03/2023
31/03/2023
Iscrizioni Aperte
Cloud Consumer Security (SECICC) v1.0
21/04/2023
21/04/2023

Iscrizioni Aperte
Data Confermata
Quota corso in unica soluzione: € 400,00
Sei un nostro allievo? Sempre validi per te gli sconti Alumni e Friends Bonus!
Le iscrizioni sono a numero chiuso e pertanto accettate con priorità d'arrivo fino ad esaurimento dei posti disponibili.
Le iscrizioni per tutti i corsi possono essere fatte direttamente online.
Iscriviti al corso