CCNP Collaboration - CIPTV-1
Implementing Cisco IP Telephony and Video, Part 1 (v.1)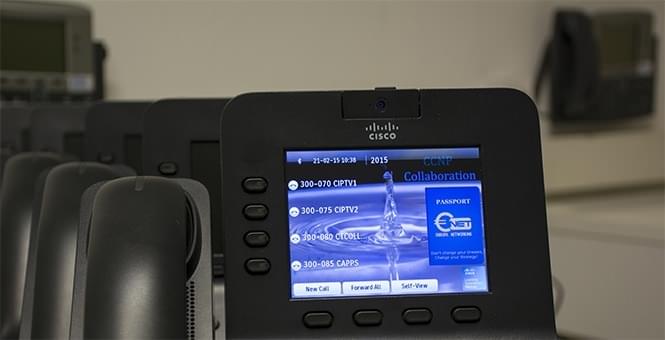 Cisco IP Telephony & Video, Part 1 (CIPTV1) v1.0 is a five-day course that prepares the learner for implementing a Cisco Collaboration solution at a single-site environment. This course focuses primarily on Cisco Unified Communications Manager Version 10.x, which is the call-routing and signaling component for the Cisco Collaboration solution Lab exercises included in the course help learners to perform post installation tasks, configure Cisco Unified Communications Manager, implement MGCP and H.323 and, SIP trunks, and build dial plans to place single site on-cluster and off-cluster calling for voice and video. Learners will also implement media resources, audio and video conferencing, and describe QoS.

Prerequisiti:
The knowledge and skills that a learner must have before attending this course are as follows:
Working knowledge of fundamental terms and concepts of computer networking, including LANs, WANs, switching and routing
Ability tu configure and operate Cisco routers and switches and to enable VLANs and DHCP
Basic of digital interfaces, PSTN, and VoIP
Fundamental knowledge of converged voice and data networks
Obiettivi del Corso
Describe Cisco Unified Communications Manager, including its functions, architecture, deployment and redundancy options, and how to install or upgrade.
Perform Cisco Unified Communications Manager initial configuration and user management.
Configure Cisco Unified Communications Manager to support on-cluster calling.
Implement PSTN access in Cisco Unified Communications Manager and to build a dial plan in a single-site Cisco.
Implement Cisco Unified Communications Manager media resources. Implement Cisco Unified Communications Manager features and Iscrizione onlines.
Real Labs: Basta con i simulators! Qui si impara con Real Labs!
Accesso durante i corsi a laboratori reali che consentono di mettere in pratica e sperimentare le soluzioni apprese in aula.
Module 1: Cisco Unified Communications Manager Introduction
Module 2: Dial Plan Introduction and Implementation of Single- Site On-Cluster Calling
Module 3: Implementation of Single-Site Off-Cluster Calling
Module 4: Media Resources
Module 5: Audio and Video Conferencing
Module 6: Quality of Service
Il corso ha una durata complessiva di 40 ore, suddivise in:
Lezioni tradizionali (presso la nostra sede)
Hands-on experience, direttamente sui nostri laboratori.
Sedi dei corsi
Milano: Viale Monza, 7 - Piazzale Loreto
Bergamo: Via Zelasco, 1 - Piazza della Libertà
| | | | |
| --- | --- | --- | --- |
| CORSO | DATA INIZIO | DATA FINE | NOTE |
| CIPTV1 300-070 | 08/04/2019 | 12/04/2019 | Iscrizioni Aperte |
Formazione per gruppi e aziende: possibilità di calendari su misura, per maggiori informazioni contattarci a info@europanetworking.net
Pagamento in unica soluzione: € 2.700,00 + Iva o 35 CLC Crediti per la formazione Cisco! (La quota include il pranzo in un locale vicino)
Sei un nostro allievo? Sempre validi gli sconti Alumni e Friend's Bonus!
Le iscrizioni sono a numero chiuso e pertanto accettate con priorità d'arrivo fino ad esaurimento dei posti disponibili.
Le iscrizioni per tutti i corsi possono essere fatte direttamente online.
Iscriviti al corso