CCNP Enterprise - ENARSI
Implementing Cisco Enterprise Advanced Routing and Services v1.0 Live Instructor Led con Lab Cisco dedicato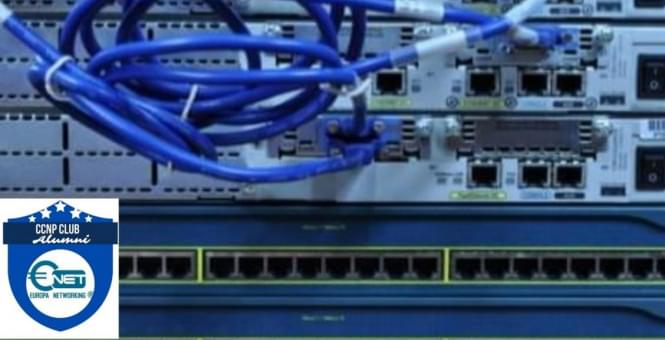 The ENARSI - Implementing Cisco Enterprise Advanced Routing and Services v1.0 course gives you the knowledge you need to install, configure, operate, and troubleshoot an enterprise network. This course covers advanced routing and infrastructure technologies, expanding on the topics covered in the ENCOR - Implementing and Operating Cisco Enterprise Network Core Technologies v1.0 course.
Prerequisiti
ENCOR
General understanding of network fundamentals
Basic knowledge of how to implement LANs
General understanding of how to manage network devices
General understanding of how to secure network devices
Basic knowledge of network automation
Obiettivi del Corso
Upon completing this course, the learner will be able to meet these overall objectives:
Configure classic Enhanced Interior Gateway Routing Protocol (EIGRP) and named EIGRP for IPv4 and IPv6
Optimize classic EIGRP and named EIGRP for IPv4 and IPv6
Troubleshoot classic EIGRP and named EIGRP for IPv4 and IPv6
Configure Open Shortest Path First (OSPF)v2 and OSPFv3 in IPv4 and IPv6 environments
Optimize OSPFv2 and OSPFv3 behavior
Troubleshoot OSPFv2 for IPv4 and OSPFv3 for IPv4 and IPv6
Implement route redistribution using filtering mechanisms
Troubleshoot redistribution
Implement path control using Policy-Based Routing (PBR) and IP service level agreement (SLA)
Configure Multiprotocol-Border Gateway Protocol (MP-BGP) in IPv4 and IPv6 environments
Optimize MP-BGP in IPv4 and IPv6 environments
Troubleshoot MP-BGP for IPv4 and IPv6
Describe the features of Multiprotocol Label Switching (MPLS)
Describe the major architectural components of an MPLS VPN
Identify the routing and packet forwarding functionalities for MPLS VPNs
Explain how packets are forwarded in an MPLS VPN environment
Implement Cisco Internetwork Operating System (IOS®) Dynamic Multipoint VPNs (DMVPNs)
Implement Dynamic Host Configuration Protocol (DHCP)
Describe the tools available to secure the IPV6 first hop
Troubleshoot Cisco router security features
Troubleshoot infrastructure security and services
Implementing EIGRP
Optimizing EIGRP
Troubleshooting EIGRP
Implementing OSPF
Optimizing OSPF
Troubleshooting OSPF
Implementing Internal Border Gateway Protocol (IBGP)
Optimizing BGP
Implementing MP-BGP
Troubleshooting BGP
Configuring Redistribution
Troubleshooting Redistribution
Implementing Path Control
Exploring MPLS
Introducing MPLS L3 VPN Architecture
Introducing MPLS L3 VPN Routing
Configuring Virtual Routing and Forwarding (VRF)-Lite
Implementing DMVPN
Implementing DHCP
Troubleshooting DHCP
Introducing IPv6 First Hop Security
Securing Cisco Routers
Troubleshooting Infrastructure Security and Services
| | | | |
| --- | --- | --- | --- |
| CORSO | DATA INIZIO | DATA FINE | NOTE |
| ENARSI - English | 17/04/2023 | 21/04/2023 | Iscrizioni Aperte |
| ENARSI - Italiano | 15/05/2023 | 19/05/2023 | Iscrizioni Aperte |
La quota di partecipazione ai corsi è relativa a : lezioni Live Instructor Led con Lab Cisco dedicati, Materiale ufficiale - Digital Kit CLP (scaricabile e in inglese), Questions & Answers Sessions e certificato ufficiale CLP di conclusione del corso.
Pagamento in unica soluzione: € 2.800,00 + Iva
Le iscrizioni sono a numero chiuso e pertanto accettate con priorità d'arrivo fino ad esaurimento dei posti disponibili.
Le iscrizioni per tutti i corsi possono essere fatte direttamente online.
Iscriviti al corso