CCNA Service Provider SPNGN1
Building Cisco Service Provider Next-Generation Networks, Part 1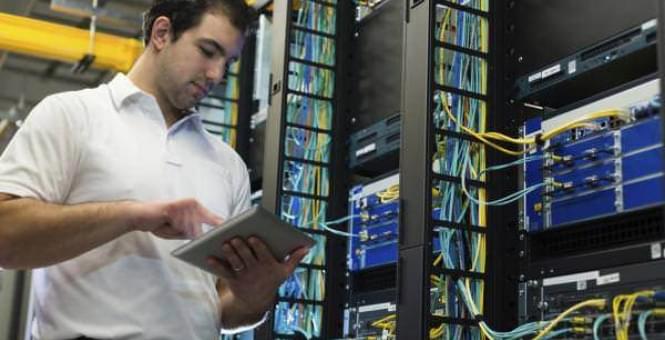 The Building Cisco Service Provider Next-Generation Networks, Part 1 course is associated with the CCNA Service Provider certification. The course is a 5-day Instructor Lead Training course that provides network engineers and technicians with the basic knowledge and skills necessary to support a service provider network. The course provides knowledge of the major components of a network and helps learners to understand how service provider networks function. The course introduces IP Next-Generation Network (IP NGN) architecture that helps service providers to build modern, scalable and reliable networks. The course also includes classroom activities with remote labs that are useful to gain practical skills for deploying basic Cisco IOS / IOS XE and Cisco IOS XR software features to operate and support service provider networks.

Prerequisiti
Basic computer literacy
Basic Microsoft Windows navigation skills
Basic Internet usage skills
Obiettivi del Corso
Upon completing the SPNGN1 course, the learner will be able to meet these overall objectives:
Describe the purpose and function of IP and data network devices
Describe QoS, MPLS, multicast, high availability, and VPN technologies
Describe and differentiate IPv4 and IPv6 addressing schemes
Describe and configure switched and routed network technologies
Configure IP services like NAT and DHCP - Configure Cisco IOS, IOS XE, and IOS XR software on Cisco platforms
Configure transport, access, and edge technologies, as well as security in the network
Configure network management protocols like Netflow, SNMP, and CDP on Cisco platforms
Module 1, IP Fundamentals, contains 6 lessons, a lab, and case study:
Lesson 1: Defining Functions of Networking
Lesson 2: Introducing TCP / IP Layers and the OSI Reference Model
Lesson 3: Describing TCP / IP Network Layer
Lesson 4: Describing TCP / IP Transport Layer
Lesson 5: Explaining Network Security
Lesson 6: IP Addressing and Subnets
Lab 1-1: Verify Host IP Configuration
Case Study 1-2: Configure Subnetting
Module 2, Basic LAN Switching, contains 7 lessons and a lab:
Lesson 1: Understanding Ethernet
Lesson 2: Connecting to an Ethernet LAN
Lesson 3: Switched LAN Technology
Lesson 4: Operating a Cisco Switch
Lesson 5: Switch Security
Lesson 6: Performing Switched Network Optimizations
Lesson 7: Troubleshooting Switch Issues
Lab 2-1: Configuring Cisco Switches
Module 3, Basic IP Routing, contains 5 lessons and a lab:
Lesson 1: Exploring the Functions of Routing
Lesson 2: Introduction to the Cisco IOS XR
Lesson 3: Configuring Basic Routing
Lesson 4: Configuring EIGRP
Lab 3-1: Configure Basic Router Configuration
Lesson 5: Understanding Cisco Router Security
Module 4, Connectivity Technologies, contains 5 lessons and 2 labs:
Lesson 1: Access Technologies
Lesson 2: Introducing Service Provider Access, Edge, and Transport Technologies
Lesson 3: Enabling the WAN Internet Connection
Lab 4-1: Implement Internet Connectivity
Lesson 4: Introducing Encapsulation
Lab 4-2: Configure Data Link Layer Encapsulation
Lesson 5: Introducing VPN
Module 5: Network Management and Security
Il corso ha una durata complessiva di 40 ore, suddivise in:
Lezioni tradizionali (in presenza o a distanza)
Hands-on experience, direttamente sui nostri laboratori
Il materiale del corso è in inglese. Le lezioni possono svolgersi in Italiano, in Inglese o altre lingue su richiesta.
Modalità intensive Lezioni da lunedi a venerdi dalle 9.00 alle 18.00 (circa 1 ora di pausa pranzo)
Sedi dei corsi
Milano: Viale Monza, 7 - Piazzale Loreto
Bergamo: Via Zelasco, 1 - Piazza della Libertà
| | | | |
| --- | --- | --- | --- |
| CORSO | DATA INIZIO | DATA FINE | NOTE |
| CCNA Service Provider, Part 1 SPNGN1 | 25/11/2019 | 29/11/2019 | Iscrizioni Aperte |
La quota di partecipazione ai corsi è relativa a : lezioni (in presenza o a distanza), esercitazioni sui nostri laboratori, materiale didattico (KIT ufficiale Cisco) e certificato ufficiale CLP di conclusione del corso.
Pagamento in unica soluzione: € 2400,00 + Iva o 30 CLC - Crediti per la formazione Cisco.
Sei un nostro allievo? Sempre validi per te gli sconti Alumni e Friend's Bonus!
Le iscrizioni sono a numero chiuso e pertanto accettate con priorità d'arrivo fino ad esaurimento dei posti disponibili.
Le iscrizioni per tutti i corsi possono essere fatte direttamente online.
Iscriviti al corso